Recent kosher cookbooks have set a standard of expectation:
interesting "main stream" or "gourmet" recipes (not a kugel to be had!)
the latest "in" ingredients like quinoa, tilapia, etc.
mouth-watering color photographs
clear layout with different fonts in different colors and enough white space to read the recipe clearly
detailed index
"bonus" information about measurements, substitutions, cooking techniques, appropriate wines or the like.
To this, I had my own checklist:
consistency - all measurements are either in volume, ounces or grams. Bonus points if the volume measurements are also converted to grams for those who live in Israel.
no more than 10 ingredients
no more than 6 steps to make the recipe
easily obtainable, reasonably priced ingredients that will be used in other recipes
something a little out of the ordinary for the Sabbath or a holiday, but not too weird
things my family will eat.
Leah Schapira and Victoria Dwek's latest book,
Starters & Sides Made Easy
, has earned the coveted 12 checks. It continues in the tradition of their joint effort,
Passover Made Easy
, and Leah's solo effort
Fresh & Easy Kosher Cooking
. These busy ladies are also the editors of the
Whisk
section of Ami Living, and maintain a website,
www.cookkosher.com
, with recipes, serving suggestions and travel tips.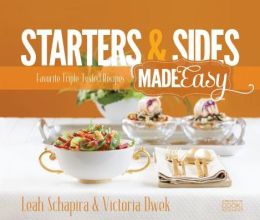 As my Mancunian neighbor (who is not a perfectionist; she just likes to do things properly) would say with her ever so lovely accent, "starters are a very important part of the meal. They set the tone for the whole seudah (festive meal)."
Shall I extol the virtues of this jam-packed little gem? Why not?! Let's start at the beginning. This is a paperback with what some call a "french fold" cover, so you can hold your place in the book. I love a big heavy cookbook as much as the next person, but when you think about it, how many recipes do you really use out of those huge tomes, and how hard is it to follow the recipe when you keep the book far away from the cooking space for fear of staining it? The $15.99 suggested retail price will make a small dent in your wallet but a big impact on your menu. The recipes are arranged in sections by main ingredient, which makes it easy for those of us who think, "I'd like to serve a vegetable as a first course" or "I'd like to try a new grain instead of the rice or kugel I always serve."
In the acknowledgments, the first mention is Hashem (God). The second mention is family. Just as the starter sets the tone of the meal, starting with this appreciation sets the tone of the cookbook as more than just a collection of recipes, but as an inspired effort.
The introduction is a conversation between Victoria and Leah, complete with speech bubbles. These ladies are passionate about their cooking, but as the same time are aware of the needs of those who aren't so enamored. A colorful Spice Guide follows. The numbering is a little hard to follow on the first pages, but if you don't know your spices, you should learn them by now!
One of the nicest features of the cookbook is "Building Blocks." These are quick tips to help you either expand a recipe or think out of the box. Instead of plain mashed potatoes, you can leave the skin on, add garlic or onions, or use different vegetables, like sweet potatoes or broccoli.Other "Building Blocks" offer suggestions for rice, and roasted vegetables. It's like getting even more recipes for free!
This versatility extends to all the recipes. Things like "Chessy Onion Rolls," "Barbecue Noodles," and "Terriyaki Mushrooms" work well as either starters or sides. While some of the meat and fish dishes may not be perfect as sides, never fear! There are instructions at the back of the book for making several recipes into "mains," some as simply as adjusting portion size or serving over rice.
It seems this cookbook was published just for me. Each recipe is presented on a double spread, with the ingredients and instructions on the left, as well as the number of servings and some tips and tidbits (Who knew that in the past, the most common variety of eggplant was small, round and white and actually looked like an egg?). The right side of the spread includes the clear color photo, how to plan ahead (prepare the sauce, freeze dough to use later), as well as a note that could be a serving idea or an anecdote.
Finally, for those who enjoy the aesthetics of food, there are plating ideas and serving ideas that include little cups made out of egg roll wrappers and stacking and arranging methods. I learned the scallion curling method from my Mancunian neighbor; it's a great way to add a little color.
As a responsible reviewer, I needed to try out several recipes, even though they are "triple-tested." The Terriyaki Mushrooms were very tasty - my crowd preferred them over a bed of rice. I would make a big batch and use this one as a side instead of a starter. The Barbecue Noodles were "interesting," which meant some liked the novelty of a new dish, others thought they were very tasty, and still others were trying to be polite, but were not thrilled. Overall, a big success for eaters who like to eat the same thing every week.

Bitayavon! (Hearty appetite in Hebrew)